Showcase — St. Thomas
Dockside Bookshop's Book Picks
Here is where you will find what's new at St. Thomas's well-known Dockside Bookshop at Havensight Mall. Every week you will find new titles to peruse. Look for updates of our "picks" for fiction and non-fiction.
"The Complete Bookshop"
Mon., Wed., Thurs, Sat. – 9 a.m. to 5 p.m.
Tues. and Fri. – 9 a.m. to 6 p.m.
Sun. 11 a.m. to 3 p.m.
774-4937
Book Picks
Fiction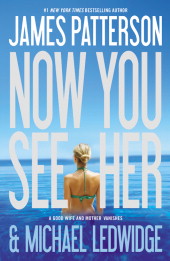 "Now You See Her" by James Patterson and Michael Ledwidge** $16.00
The perfect life of a successful lawyer and loving mother, Nina Bloom would do anything to protect the life she's built in New York including lying to everyone, even her daughter, about her past. But when an innocent man is framed for murder, she knows that she can't let him pay for the real killer's crimes. The perfect lie of Nina's secret life began 18 years ago. She had looks to die for, a handsome police-officer husband, and a carefree life in Key West. When she learned she was pregnant with their first child, her happiness was almost overwhelming. But Nina's world is shattered when she unearths a terrible secret that causes her to run for her life and change her identity. The perfect way to die now, years later, Nina risks everything she's earned to return to Florida and confront the murderous evil she fled. In a story of wrenching suspense, James Patterson gives us his most head-spinning, action-filled story yet, a Hitchcock-like blend of unquenchable drama and pleasure.
Hardcover Fiction
"A Dance With Dragons" by George R. R. Martin $35.00
Book Five of Song of Fire and Ice Series
In the aftermath of a colossal battle, the future of the Seven Kingdoms hangs in the balance—beset by newly emerging threats from every direction. In the east, Daenerys Targaryen, the last scion of House Targaryen, rules with her three dragons as queen of a city built on dust and death. But Daenerys has thousands of enemies, and many have set out to find her. As they gather, one young man embarks upon his own quest for the queen, with an entirely different goal in mind.
Fleeing from Westeros with a price on his head, Tyrion Lannister, too, is making his way to Daenerys. But his newest allies in this quest are not the rag-tag band they seem, and at their heart lies one who could undo Daenerys's claim to Westeros forever.
Meanwhile, to the north lies the mammoth wall of ice and stone—a structure only as strong as those guarding it. There, Jon Snow, 998th Lord Commander of the Night's Watch, will face his greatest challenge, for he has powerful foes not only within the Watch but also beyond, in the land of the creatures of ice.
From all corners, bitter conflicts reignite, intimate betrayals are perpetrated, and a grand cast of outlaws and priests, soldiers and skinchangers, nobles and slaves, will face seemingly insurmountable obstacles. Some will fail, others will grow in the strength of darkness. But in a time of rising restlessness, the tides of destiny and politics will lead inevitably to the greatest dance of all.
Nonfiction
"A Stolen Life" by Jaycee Dugard** $20.00
In the summer of 1991 I was a normal kid. I did normal things. I had friends and a mother who loved me. I was just like you. Until the day my life was stolen.
For eighteen years I was a prisoner. I was an object for someone to use and abuse.
For eighteen years I was not allowed to speak my own name. I became a mother and was forced to be a sister. For eighteen years I survived an impossible situation.
On August 26, 2009, I took my name back. My name is Jaycee Lee Dugard. I don't think of myself as a victim. I survived.
A Stolen Life is my story—in my own words, in my own way, exactly as I remember it.
Children's Fiction
"Middle School, The Worst Years of My Life, by James Patterson and Chris Tebbetts** $9.99
Rafe Khatchadorian has enough problems at home without throwing his first year of middle school into the mix. Luckily, he's got an ace plan for the best year ever, if only he can pull it off: With his best friend Leonardo the Silent awarding him points, Rafe tries to break every rule in his school's oppressive Code of Conduct. Chewing gum in class-5,000 points! Running in the hallway-10,000 points! Pulling the fire alarm-50,000 points! But when Rafe's game starts to catch up with him, he'll have to decide if winning is all that matters, or if he's finally ready to face the rules, bullies, and truths he's been avoiding.
Blockbuster author James Patterson delivers a genuinely hilarious-and surprisingly poignant-story of a wildly imaginative, one-of-kind kid that you won't soon forget. (Ages 8 to 12)
Hardcover Graphic
"Marvel Avengers Prime" by Brian Bendis and Alan Davis $24.99
Hardcover Political
"Seal Team Six", by Howard E. Wasdin and Stephen Templin $26.99
SEAL Team Six is a secret unit tasked with counter-terrorism, hostage rescue, and counterinsurgency. In this dramatic, behind-the-scenes chronicle, Howard Wasdin takes readers deep inside the world of Navy SEALS and Special Forces snipers, beginning with the grueling selection process of Basic Underwater Demolition/SEAL (BUD/S) -- the toughest and longest military training in the world.
After graduating, Wasdin faced new challenges. First there was combat in Operation Desert Storm as a member of SEAL Team Two. Then the Green Course: the selection process to join the legendary SEAL Team Six, with a curriculum that included practiced land warfare to unarmed combat. More than learning how to pick a lock, they learned how to blow the door off its hinges. Finally as a member of SEAL Team Six he graduated from the most storied and challenging sniper program in the country: The Marine's Scout Sniper School. Eventually, of the 18 snipers in SEAL Team Six, Wasdin became the best -- which meant one of the best snipers on the planet.
Less than half a year after sniper school, he was fighting for his life. The mission: capture or kill Somalian warlord Mohamed Farrah Aidid. From rooftops, helicopters and alleys, Wasdin hunted Aidid and killed his men whenever possible. But everything went quickly to hell when his small band of soldiers found themselves fighting for their lives, cut off from help, and desperately trying to rescue downed comrades during a routine mission. The Battle of Mogadishu, as it become known, left 18 American soldiers dead and 73 wounded. Howard Wasdin had both of his legs nearly blown off while engaging the enemy. His dramatic combat tales combined with inside details of becoming one of the world's deadliest snipers make this one of the most explosive military memoirs in years.
TOP SELLERS
Nonfiction
THE IMMORTAL LIFE OF HENRIETTA LACKS, by Rebecca Skloot** $7.99
OUTLIERS, by Malcolm Gladwell** $7.99
THE ORIGINAL ARGUMENT, by Glenn Beck with Joshua Charles $16.00
LIFE, by Keith Richards with James Fox** $14.99
I HOPE THEY SERVE BEER IN HELL, by Tucker Max $16.95
Fiction
THE CONFESSION, by John Grisham** $7.99
A GAME OF THRONES, by George R. R. Martin $8.99
HELL'S CORNER, by David Baldacci** $7.99
WHIPLASH, by Catherine Coulter $9.99
FAMILY TIES, by Danielle Steel $7.99
WATER FOR ELEPHANTS, by Sara Gruen $14.95
ROOM, by Emma Donoghue** $7.99
CUTTING FOR STONE, by Abraham Verghese $15.95
THE POSTCARD KILLERS, by James Patterson and Liza Marklund** $7.99
LITTLE BEE, by Chris Cleave